Uganda,
the country in east Africa, where the longest river in the world, the Nile river has its source starting at Lake Victoria, has 10 National Parks and 11 Wildlife Reserves. Each National Park offers different things to do and to see, even though the game drives to see the wild animals are the most popular activities for visitors.
We offer Guided Safaris to the top safari destinations, different National Parks, and Game Reserves, according to the interests of our guests.
Some visitors are bird-watchers and want to do some birding tours to see as many different bird species as one can find. For those, we offer private tours to the most popular national parks, where the chances for bird watching are much better. Other visitors want to watch some big games in the Savannah grasslands and have real wildlife experiences.
Visiting the National Parks it is recommended to use a proper vehicle. Even though it is mostly possible to go in a regular car too, with the safari vehicle and a private guide, the chances are much higher to see more.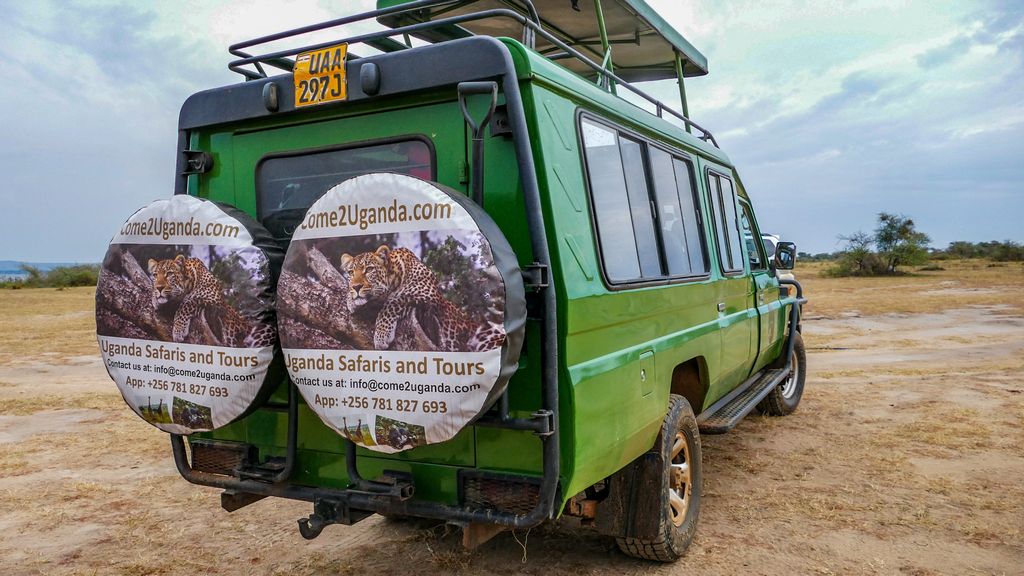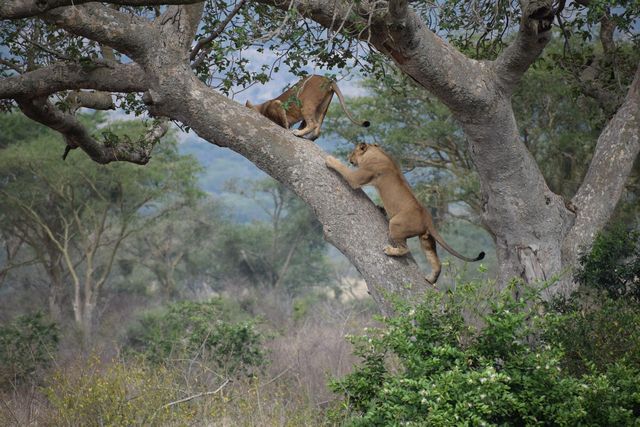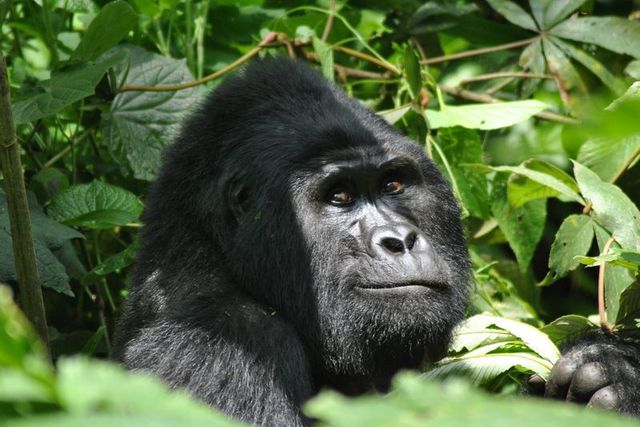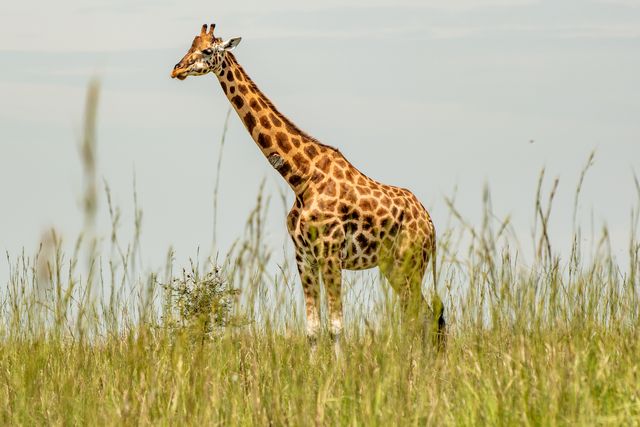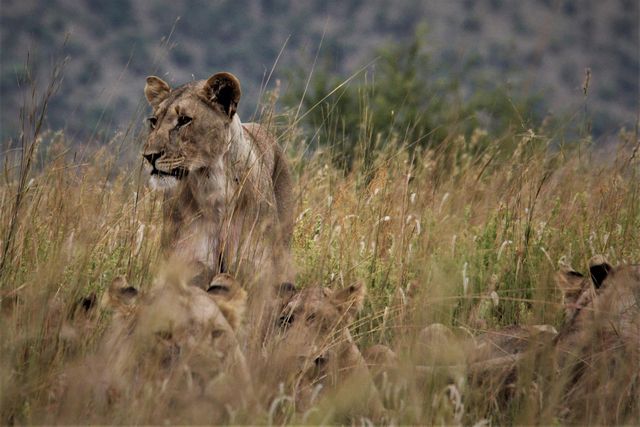 Our Top Guided Safaris in Uganda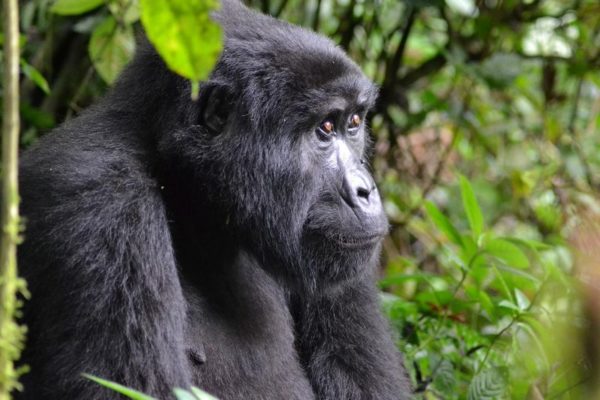 10 Days Safari
Big 5 and Gorilla trekking
This safari takes you to the highlights of Uganda.
You will visit Murchison Falls National Park, pass by the Rhino Sanctuary, where you can spot the Rhinos, and last but not least the Gorilla trekking in Bwindi Impenetrable Forest National Park.
Read more about the details of this safari
The most popular national parks for game drives are located in western Uganda.
The popular Uganda gorilla trekking in the Bwindi impenetrable national park in southwestern Uganda, or the tree climbing lions at the Queen Elizabeth national park in the Ishasha sector. Visiting the largest national park in Uganda, the Murchison falls national park in the Northwest, is a must when going on an Uganda safari.
If you are planning to visit Uganda, feel free to contact us. We will be happy to create the best program for your African safari. Whether you want to watch the mountain gorillas, track chimpanzees, or see other wildlife at any national park, we are ready to get you there.
Our top destinations are the famous Murchison falls national park, the Kidepo valley national park, the Queen Elizabeth national park, and last but not least the Bwindi Impenetrable national park. With us, going on your private tour, you will have the best wildlife experience. We plan your wildlife tours to get you to see as many wildlife species as possible. Our goal is to make sure, you will have the most amazing experience on your African safari.
Murchison falls national park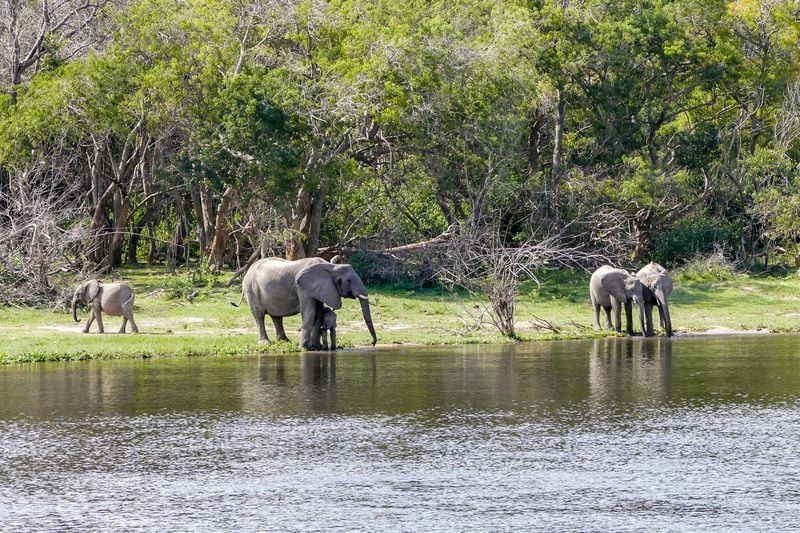 Murchison falls national park is the largest national park in the western region of Uganda. The national park is popular for several wildlife species such as Lions, Leopards, Elephants, Buffaloes, and many different Antelopes. This national park is also the place to see the famous Murchison falls, where the river Nile squeezes itself through the rocks, resulting in the biggest waterfall in Uganda and creating spectacular scenery.
Visiting the Murchison falls can easily be done between game drives. The best times for game drives are early in the morning and evening. During the daytime, many animals hide from the heat of the day. Therefore it is better to do other things during midday, for example, a boat cruise to the bottom of the Murchison falls.
On a boat ride on the Nile river, you have a chance to see Hippos and Crocodiles, among other animals. A boat cruise is a great opportunity to experience the scenic beauty of the river Nile and observe different bird species living on the shores of the river.
Murchison falls national park is one of the top safari destinations for park safaris to spot wild animals. You have a very good chance to see 4 of the big 5 in this one national park. To make your experience complete to see all 5 of the big 5, we recommend visiting the Ziwa Rhino sanctuary, which is very handy to include in your Uganda safari. This can be easily combined with other national parks, like the Kibale national park for Chimpanzee trekking. Even though you can also go Chimpanzee trekking in Murchison falls national park.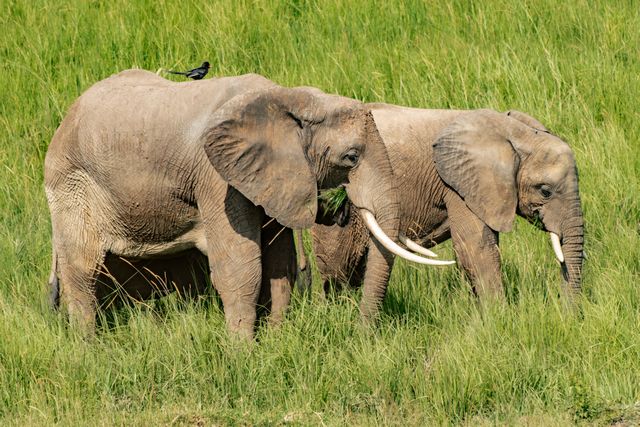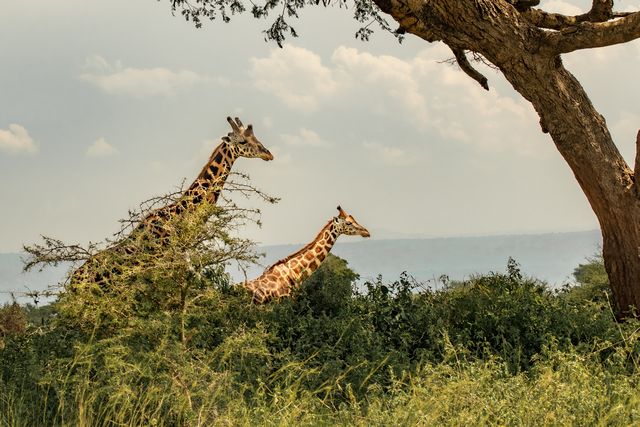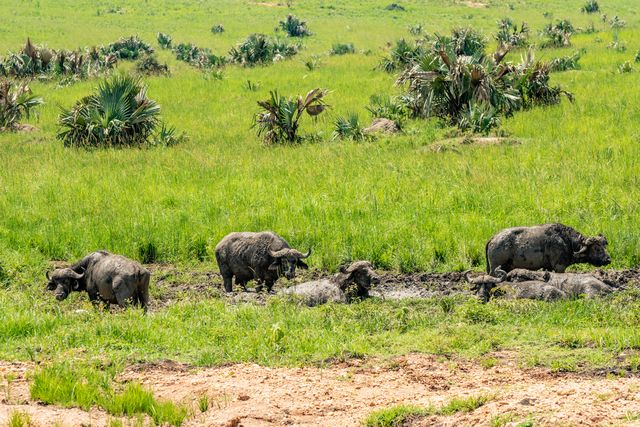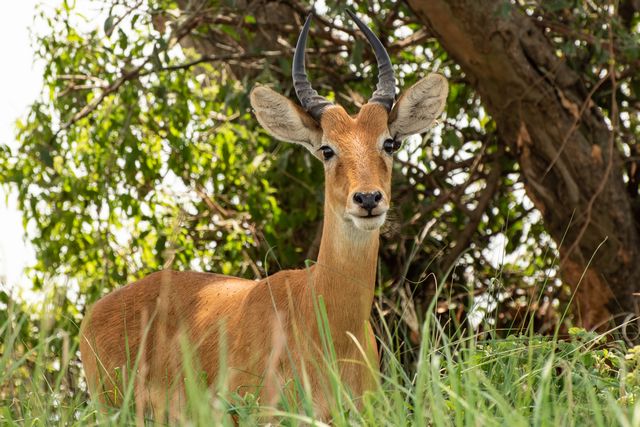 Queen Elizabeth national park
the most famous national park in Uganda is a great national park to observe Elephants, several different Antelopes, and the famous tree-climbing lions, especially in the Ishasha sector. Even if the Ishasha sector is quite some distance away from the main game drive areas, it is worth taking some extra time to visit this reserve for another game drive.
In the main area of Queen Elizabeth national park, you can also go for a game drive in the Mweya section, where you can encounter Leopards, Hyenas, Lions, Buffalos, Hippos, and much other wildlife.
At this section are walking safaris offered too. Please never leave your car without a ranger and walk on your own. Especially if you are on a self-drive safari, remember you are encountering wild animals, which can become very dangerous to your own life. In the main game drive section, you can also find tree-climbing lions. In case you are walking around and encounter a lion, remember climbing up a tree will not help you, the tree-climbing lions are surely better at climbing than you.
It is a good opportunity to diversify your safari and go for a boat cruise on the Kazinga channel watching the scenic beauty of the Kazinga channel and the Mweya peninsula. During your boat safari, you can spot Hippos and herds of Buffalos close to the shores of the Mweya peninsula, which is part of Queen Elizabeth national park.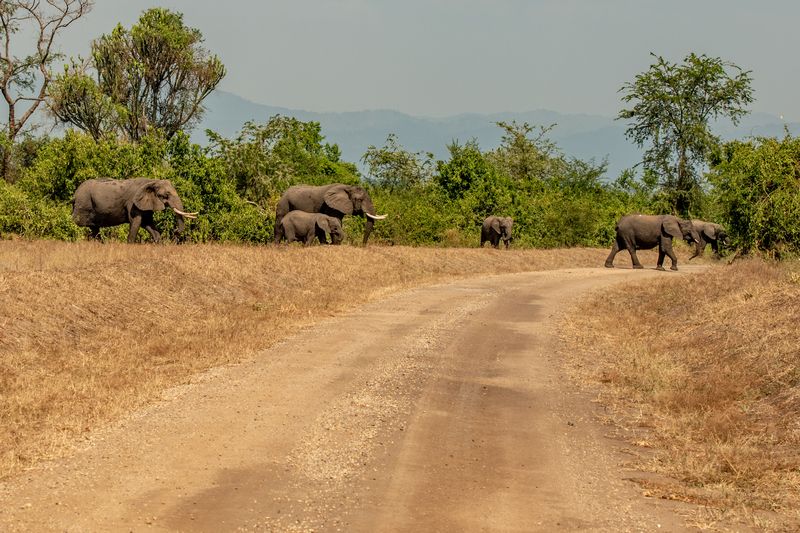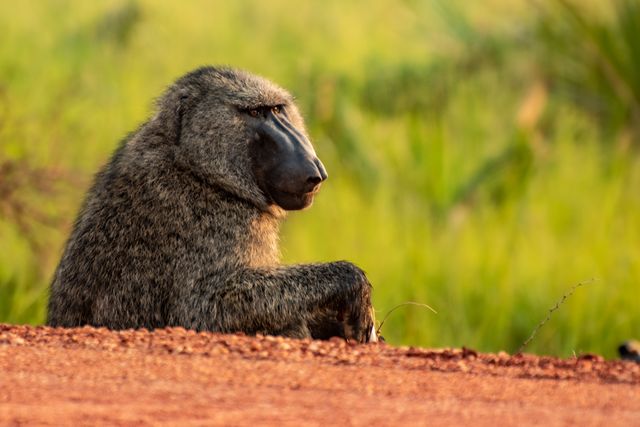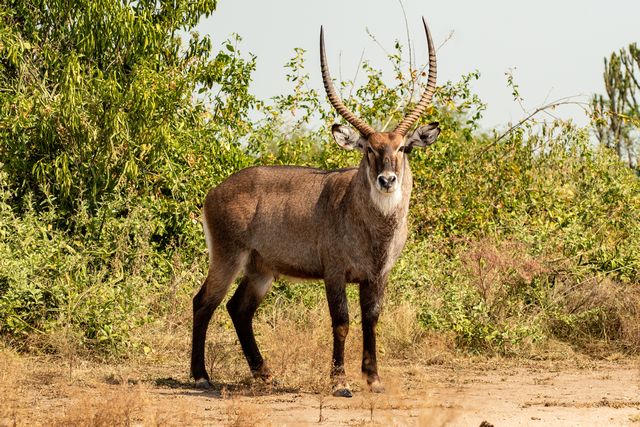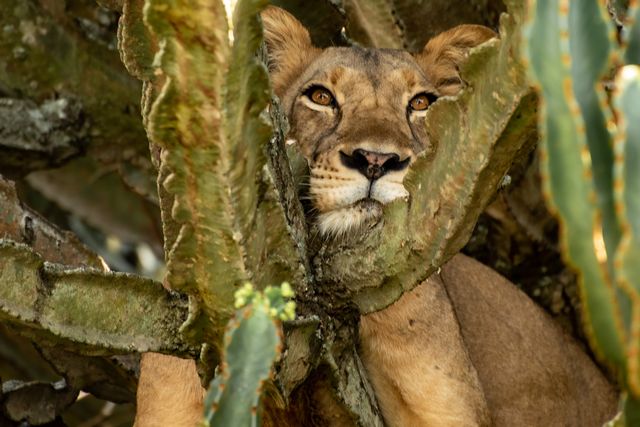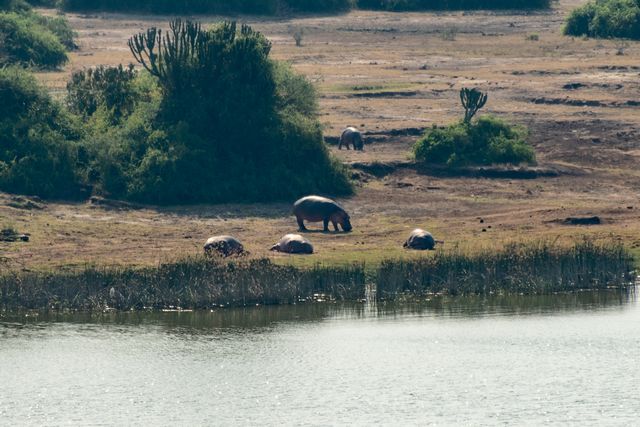 Visit Kibale Forest National Park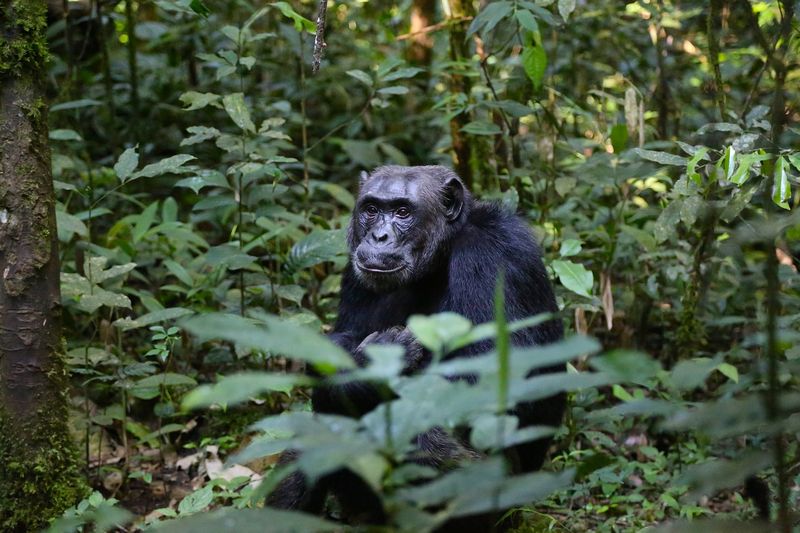 Between the famous Murchison falls national park and Queen Elizabeth national park is Kibale national park located close to Fort Portal. It is a great opportunity for an amazing experience to encounter primates.
We recommend visiting Kibale national park when traveling in western Uganda. Kibale forest national park is famous for chimpanzee trekking where you can observe habituated chimpanzees. Even though there are also Chimpanzees found in Murchison falls national park in the Kibale forest the chances are better for these special wildlife experiences which you should not miss when being on an African safari.
In Kibale forest national park you can go for a walking safari where you will have the amazing opportunity to track chimpanzees. Being in a forest you can encounter other animals of course too, as well as many different bird species. Kibale Forest hosts more than 320 bird species, which is a great opportunity for birding tours as well.
Bwindi Impenetrable Forest National Park
The Bwindi national park, located in southwestern Uganda, is the place for gorilla trekking. The Gorilla safari is one of the most famous things to do in Uganda.
If you would like to make this amazing experience, you should book as early as possible. The permits are limited and in the high season, it could happen that all permits are given out.
Bwindi Impenetrable national park is the national park that hosts more than 50% of the world's population of mountain gorillas. Even though the jungle is very large and indeed impenetrable, there are still very high chances of encountering these endangered mountain gorilla species.
While you are moving around through the Bwindi Impenetrable forest, which is UNESCO world heritage site, you are at the right place to encounter several bird species.
Even though it is not guaranteed to meet the mountain gorillas, the chances are quite high for this once-in-a-lifetime experience, and for most visitors who visit Uganda, the Gorilla safari is a must. If you wish to have this amazing experience on your Uganda safari and want to go gorilla trekking, you are welcome to join us. We will make sure to organize everything for you, to go smoothly.
A short distance from Bwindi Impenetrable national park is the beautiful Lake Bunyonyi. You should really try to plan a little bit of extra time to visit this beautiful lake. You can meet with local people, do a boat cruise and explore in a day tour the scenic beauty of this hidden gem.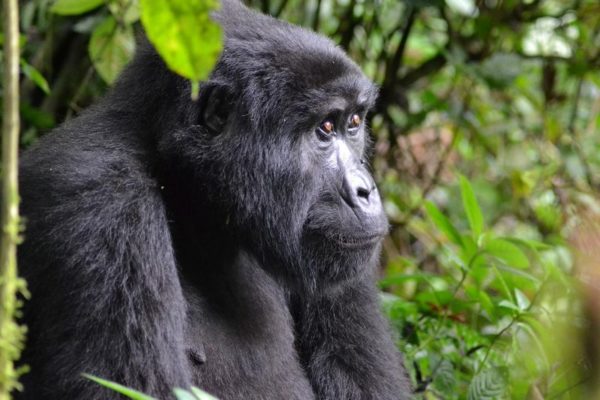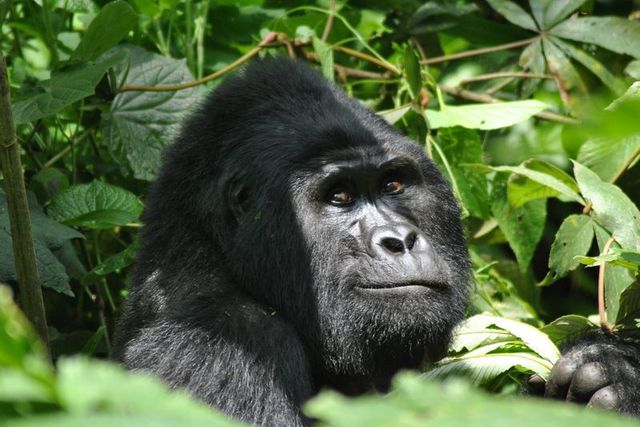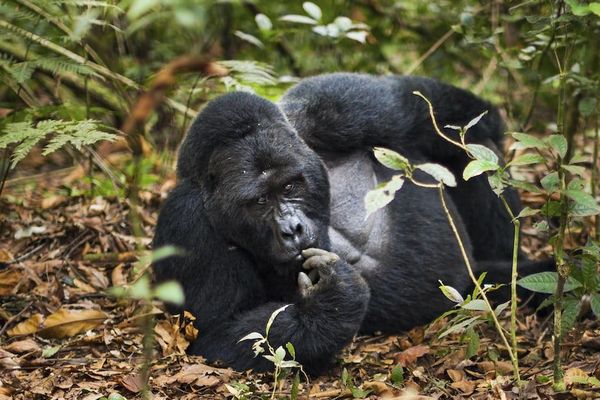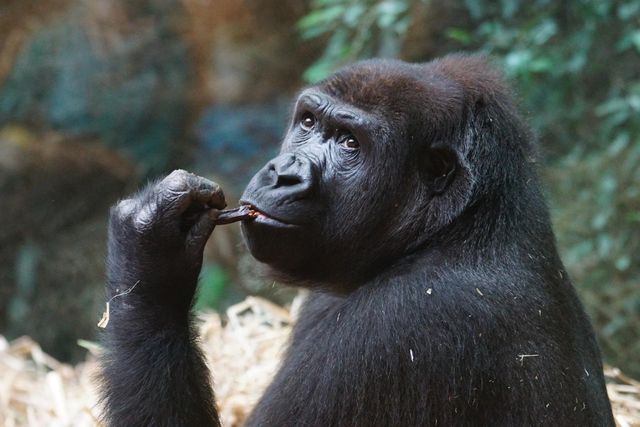 Kidepo valley national park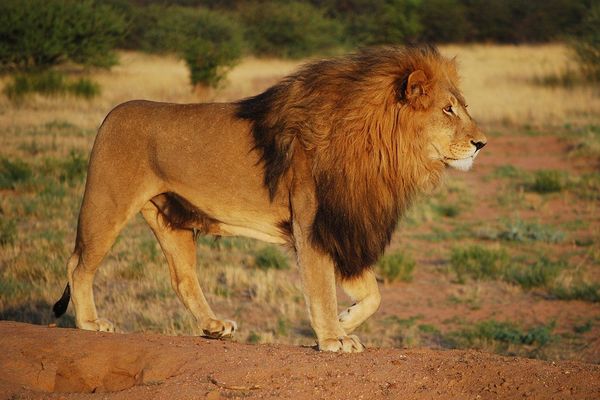 This national park is located in the northeast of Uganda, bordering South Sudan. It is the most remote national park in Uganda, but nevertheless, it is definitely worth visiting Kidepo Valley national park on your Uganda safari. The national park is the favorite of many visitors. Even though the park is quite huge, the area for wildlife tours is relatively small, which gives you much better chances to experience wildlife species during your game drives.
What you can expect to encounter in Kidepo Valley national park
The park is known for its huge populations of Buffaloes, Giraffes, Elephants, Zebras, Ugandan Kobs, and many others. Lions are also found in the National Park during game drives. Even bird watching and nature walks are possible in Kidepo, which is a great opportunity for birding tours.
Since Kidepo Valley is very far from other national parks, it can be well combined with a complementary journey to the Mount Elgon region. On your journey, you will pass Pian Upe Wildlife Reserve, which is a very nice opportunity to go for another game drive with the chance to spot Cheetahs. Further Mount Elgon, which is also a national park, is a well-known region for one of the best Arabica Coffee in East Africa. With that said, you have a chance to visit coffee plantations and get in contact with the farmers and local people to learn a lot about coffee. Additionally to that, you can explore the famous Sipi Falls or go on a bird watching tour.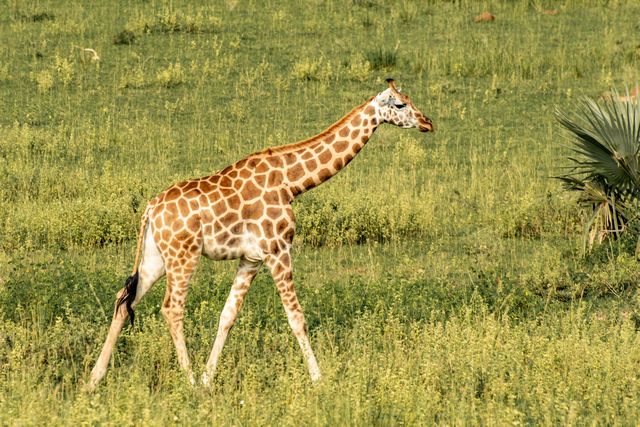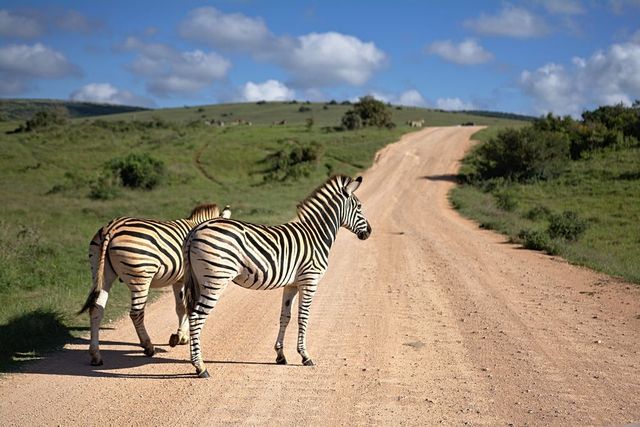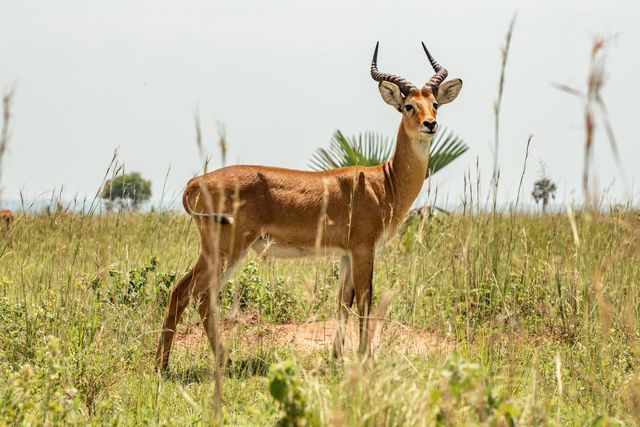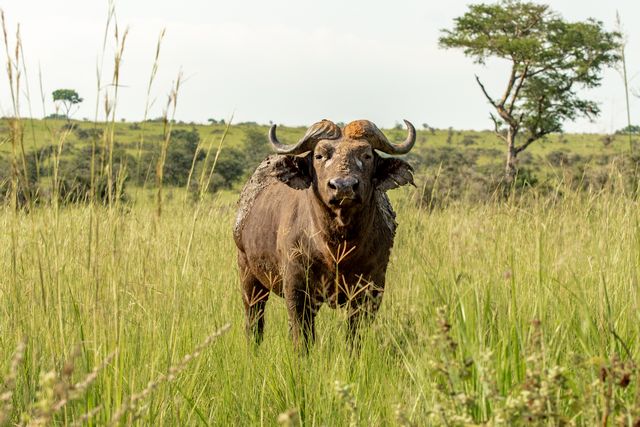 Walking Safaris at Lake Mburo national park
Lake Mburo national park is the smallest national park in Uganda and is located in the western region. But this park offers a lot of interesting things to do. Nature walks, bird watching, game drives, horseback safaris, cycling tours, and even fishing or a boat cruise.
A stop at Lake Mburo offers a great option for a stop, when traveling to the western region for the Gorilla trekking at the Bwindi Impenetrable forest or visiting Lake Bunyonyi and should be on the list of your Uganda safari destinations.
As you can see, Uganda has a lot to offer and to see.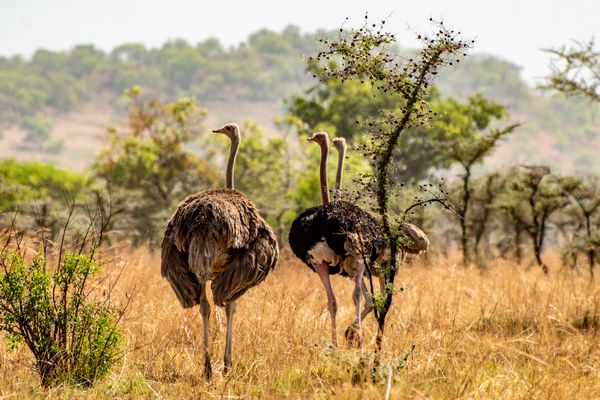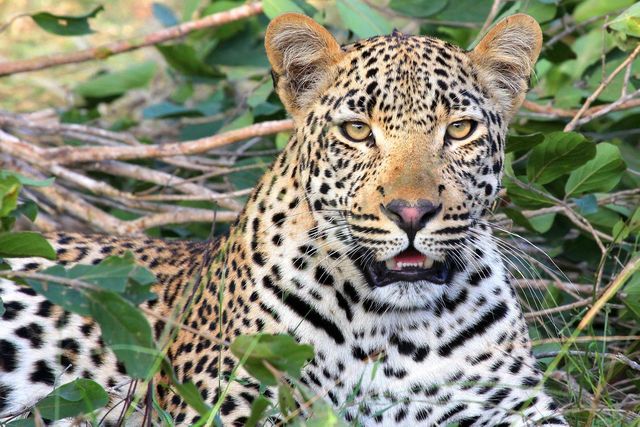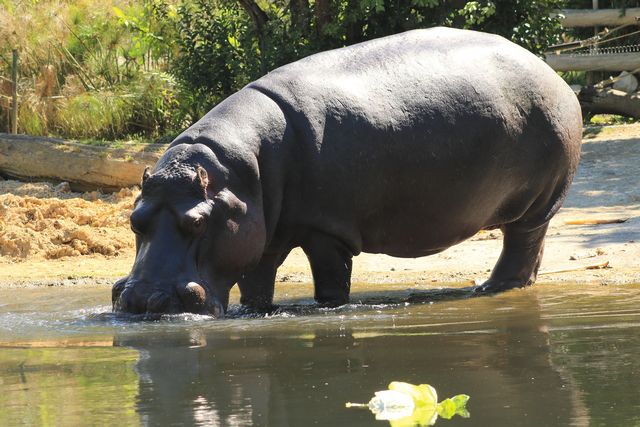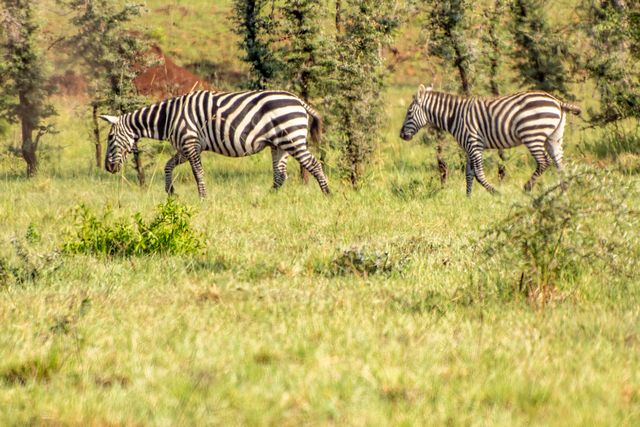 Come with us on your Uganda safari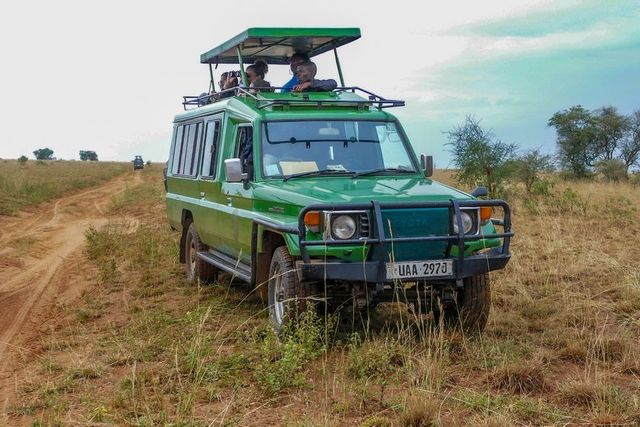 Either you want to see the mountain gorillas in Bwindi impenetrable national park or Mgahinga national park, or you want to experience real wildlife while you're doing a horseback safari, or you wish to go chimpanzee trekking in the Kibale forest.
We are here for you, to make all your wishes come true. We offer wildlife tours to all national parks and game reserves, such as Queen Elizabeth national park, Murchison falls national park, Kidepo Valley national park, Pian Upe Wildlife reserve, and all other national parks, and we do our utmost to make your Uganda safari a once-in-a-lifetime experience.
Contact us today and get your offer for your private tour through Uganda.